August 13-14
Doing your best with a positive attitude no matter what circumstances you are faced with is something that's very important to Max and his Magik Kart Racing teammates. In August, with the World Karting Association races in Cincinnati, OH only a few days away, Max was unfortunately fitted for a cast on his left hand. It was designed to protect his broken pinkie finger and immobilize his ring finger to help the broken bones in his left hand to heal. The good news was that this performance cast would allow Max to race later that weekend. Bad news was that he would only be able to use eight of his fingers to steer.
On August 1, during the Sunday Final in the SuperKarts! USA SuperNationals at New Castle Motorsports Park in Indiana, Max got hit off in the hairpin with one corner to go on the final lap. Turns out the contact he absorbed as a result broke his pinkie finger near the knuckle. The early reports from the medical team were that the injury would cost Max about six weeks of action—so we did not think the races in Ohio would be an option. However, an active driving cast became available and that's what Max wore while keeping his grip on the wheel and doing a great job on the track.
Max was fitted for a half-cast on his hand for protection and given clearance by the doctors to drive on Wednesday—assuming he could with fingers four and five on his left hand immobilized. His family decided to give it a shot and if it started to hurt Max would stop racing. So Checkered Motorsports and Magik Kart USA got his go karts together and Coach Conrad Grunewald got on a plane. We missed practice on Thursday due to the last-second option of being able to compete in a race that we previously thought we would not be able to. But the team headed down early Friday morning and were ready at 9 am for the World Karting Association Grand Nationals at the Motorsports Country Club of Cincinnati.
First session out in the 4 stroke kart due to having to adjust his driving position, however, Max gouged his right elbow on the clutch. This led to an urgent care trip that resulted in three stitches. The doctors advised the likelihood of restitching being necessary if he continued to drive and we wanted no part of that. We took the rest of Friday's practice off to allow for some healing and to see how Max felt Saturday morning.
An unfortunate side effect of the elbow injury—we weren't going to be able to drive Briggs with the way the powertrain was configured for the rest of weekend—is by not racing, we lost our 2nd place in the 4 stroke season championship which culminated that same weekend. But Max never hung his head about that.
On Saturday in the Mini Swift 2 stroke we went straight to the 5-minute Warmup, then Qualifying and PreFinal and then the Race. Max did manage to drive with 1.6 hands and the stitches held and we finished P5 in the Final less than a second out of P2. On Sunday, Max needed P3 or higher and to beat one of our competitors to finish P2 in the Mini Swift Championship for the season. He qualified P5, got P2 in the rain in the PreFinal, and snagged P2 on a wet track in the Final with an enormous gap back to P3.
Congrats to our friend Isaac who won the Race and the Championship. Max comes home with a trophy, and will be awarded the P2 trophy for the Championship at the kickoff of the 2023 Racing Season in Daytona in late December. Absolutely phenomenal job Max in very tough circumstances!! Way to go Max!!
Here is a close-up of the cast that Max had to wear in the race as well as how he had to wrap it when it started raining to keep the cast dry.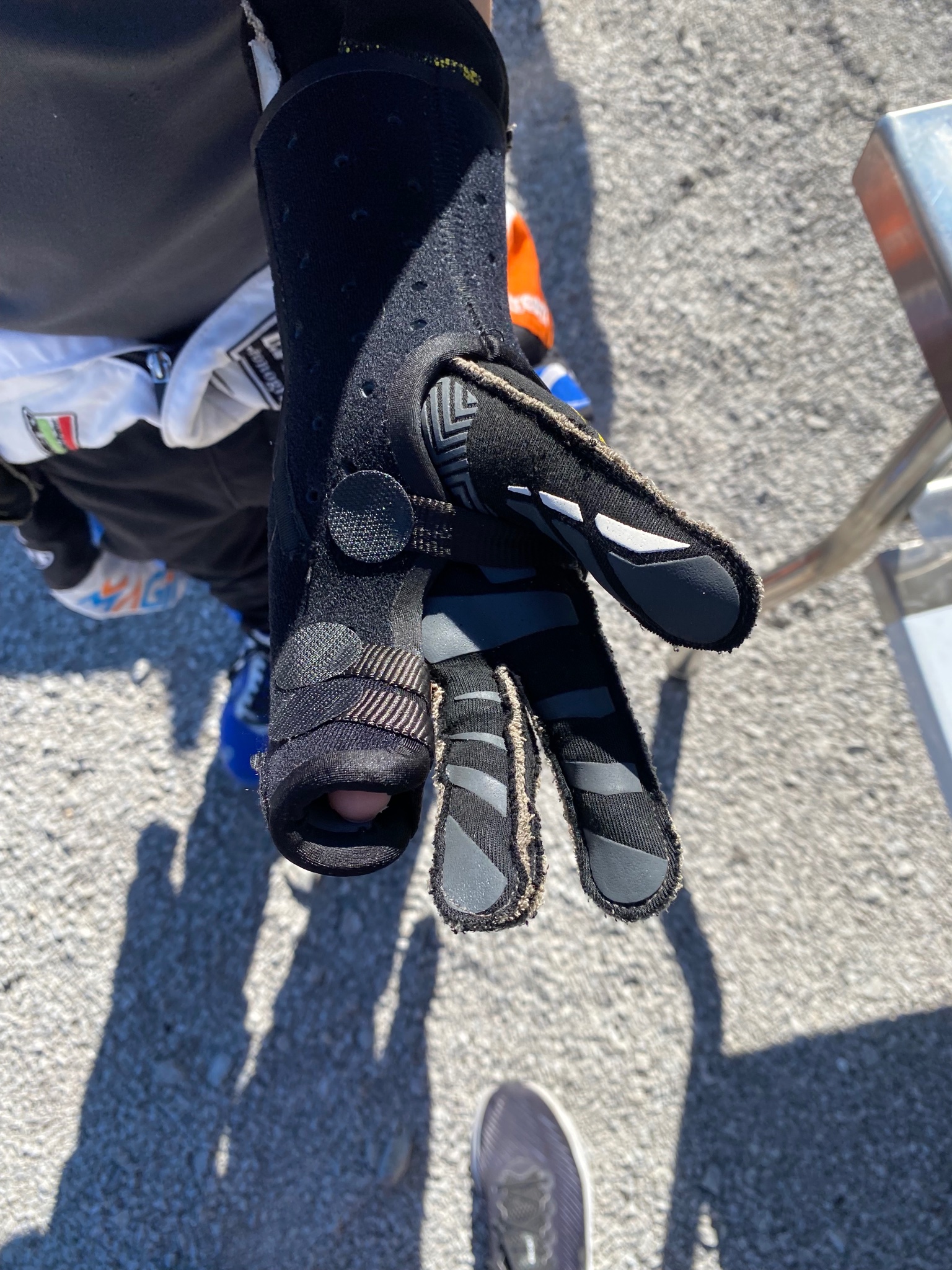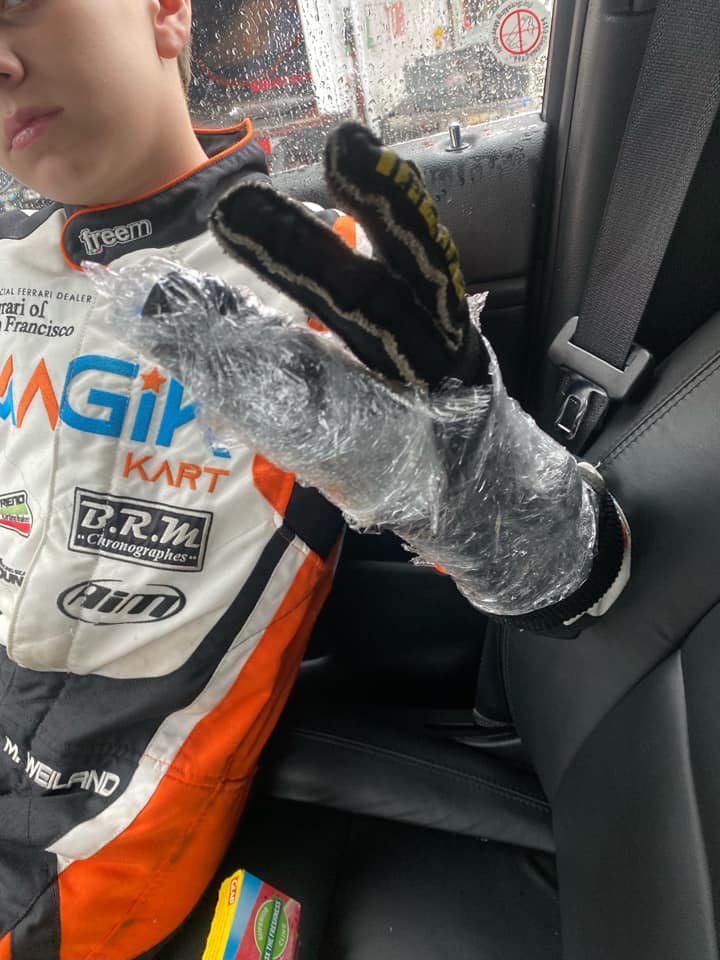 Here is a lap from our second ever test day in the Junior kart at the Pittsburgh International Race Complex. Max did a nice job with the bigger, heavier and more powerful kart. Finger was okay.
Thanks to Checkered Motorsports, Magik Kart USA, Electronic Merchant Systems, Ferrari of San Francisco, BRM Chronographes Americas, Conrad Grunewald, Robert Bujdoso and Andrew Bujdoso Racing for all their support.
You can also follow along with @MaxWeilandRacing on Facebook, Instagram and YouTube.
—
Max Weiland is an 11-year old racing driver who is affiliated with Checkered Motorsports, Magik Kart USA, Electronic Merchant Systems, Ferrari of San Francisco and BRM Chronographes Americas and coached by Conrad Grunewald, Andrew Prendeville and Robert Bujdoso.