The Florida winter tour continued for Max Weiland and his Magik Kart USA teammates on January 16 in Pompano Beach. The weekend's ROK Cup USA event was initially scheduled for two days but cut short after one due to incoming storms and severe weather conditions. The racing action that was able to unfold continued to help Max improve by featuring top drivers in his class throughout the United States, Canada, Mexico, and South America. While qualifying P15 hampered race results, the fun-filled event was highlighted by some great passes by Max and another step forward in his development as a driver.
On Saturday morning, Weiland worked his way into the top-10 positions and was running in P9 on the final lap of the first heat. But he received contact at that point, was punted from P9, and reshuffled into the 20's as a result which is where he finished the heat. Later that day, Max would start P16 in the Main Race before getting caught up in an incident that dropped him to 28th and a half lap back from the lead. True to form, Weiland continued to fight and never stopped racing. He moved up to finish in P19 while overtaking nine talented young drivers along the way.
Goals for Max over the next few races include finding his ultimate speed a little earlier in the weekend to help avoid qualifying in the middle of the pack and give him a better chance in super-competitive events like Pompano. As only his second season of racing begins, however,  it's impressive to see how far Weiland has already come and exciting to see how far he can go. To follow along with his development as a driver, visit Max Weiland Racing on Facebook where you can also watch the last two laps of his race at Pompano Beach.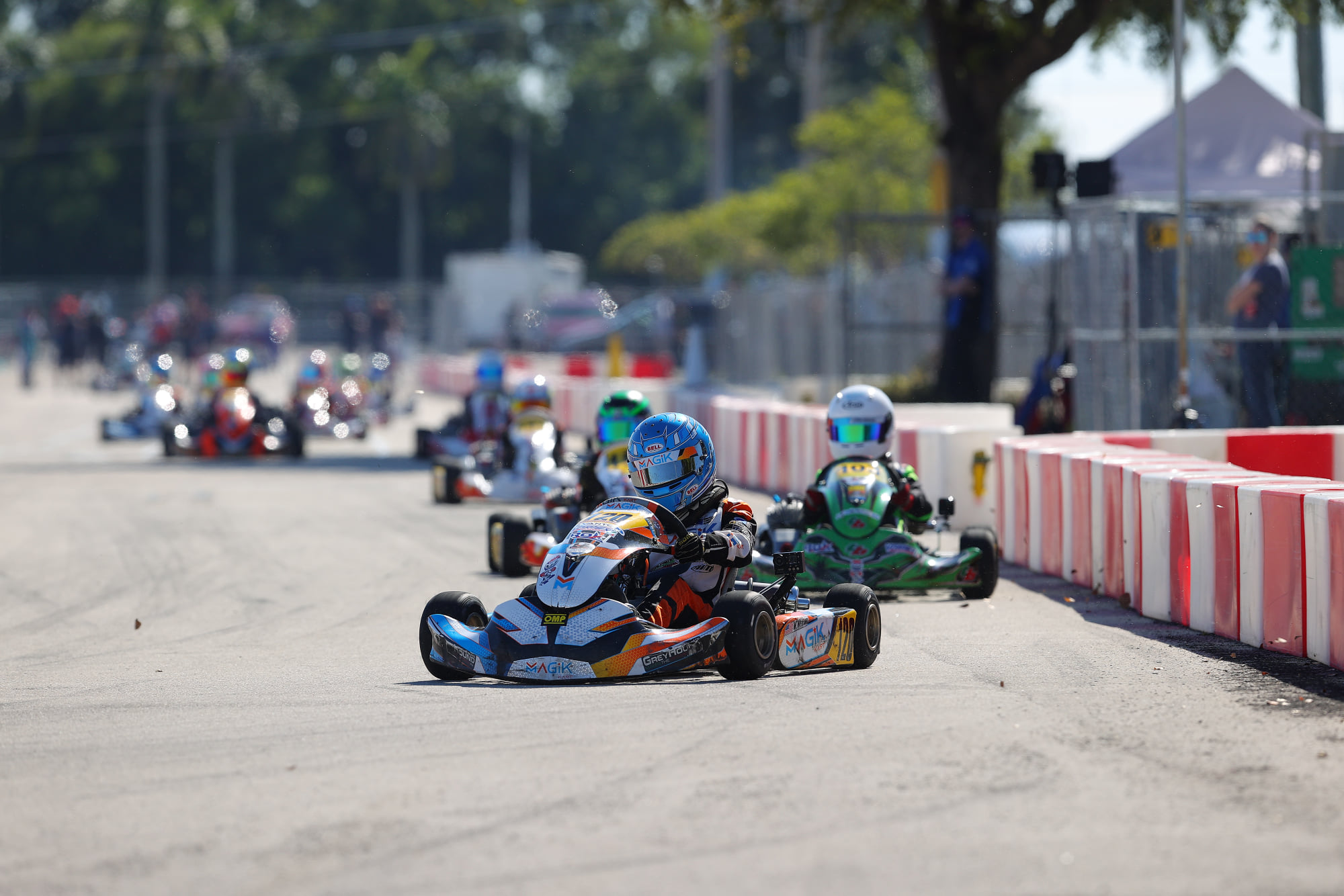 Special thanks to Magik Kart USA, Checkered Motorsports, Electronic Merchant Systems, Ferrari of San Francisco, BRM Chronographes Americas and Conrad Grunewald.
You can also follow along with @MaxWeilandRacing on Facebook, Instagram and YouTube.
–
Max Weiland is a 10-year old racing driver who is affiliated with Magik Kart USA, Checkered Motorsports, Magik Kart USA, Electronic Merchant Systems, Ferrari of San Francisco and BRM Chronographes Americas and coached by Conrad Grunewald, Andrew Prendeville and Robert Bujdoso.