Max Weiland won the 4 stroke Final and Feature race at GoPro Motorplex in Mooresville, North Carolina in his Magik Kart USA Briggs Cadet this weekend. Despite starting the PreFinal in P21, he passed 19 drivers to earn a P2 start in the Final. From there, Max turned in an exceptional drive to secure the hard-fought victory against a very talented field.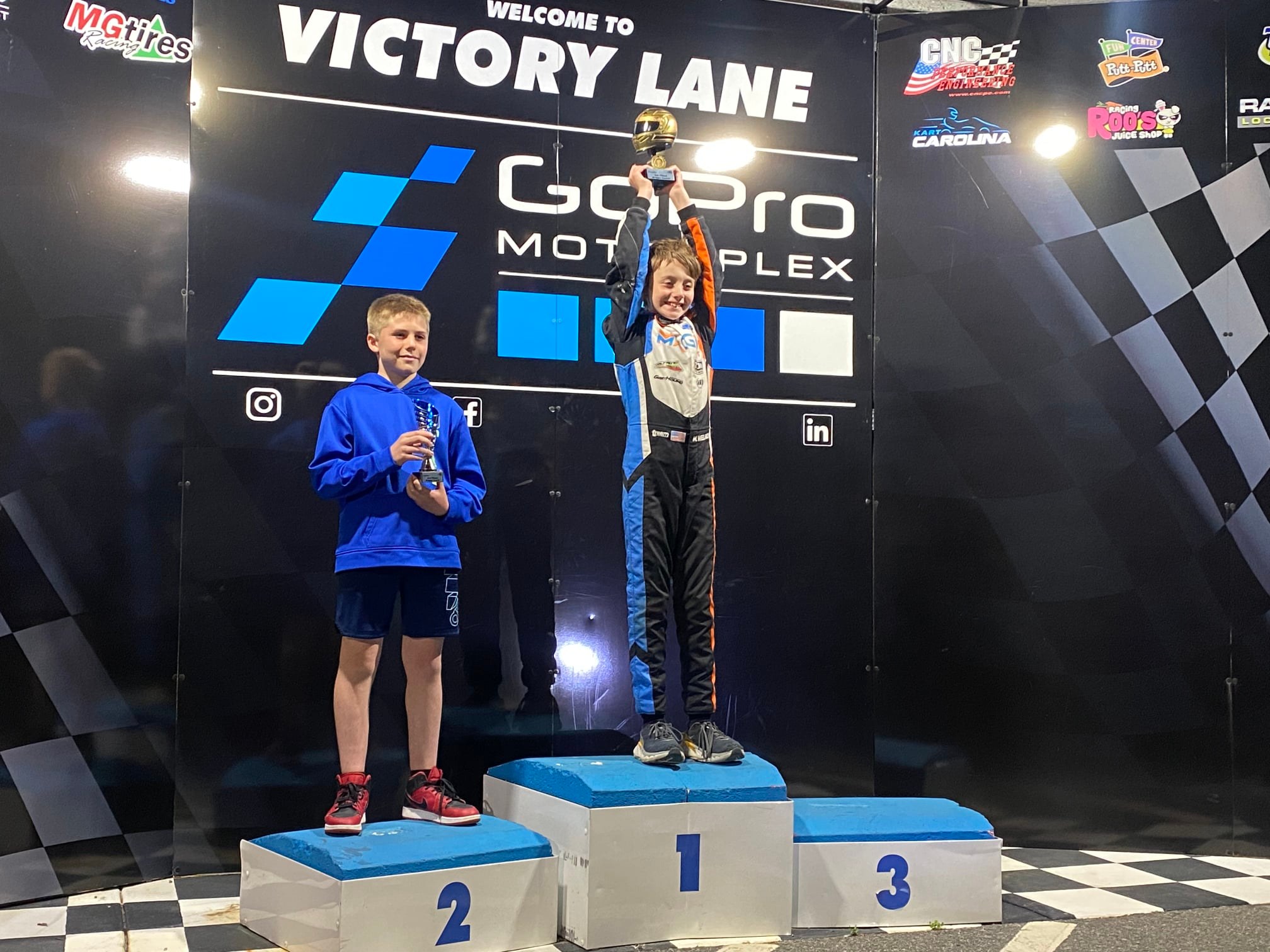 During the PreFinal, Max passed 19 karts on a wet but drying track. The entire field, including Max, were on wet tires during only seven laps of the PreFinal. Weiland followed that up by coming out on top of a very tough four-kart fight in the dry Final for the win later that day. He continued to improve and have fun with his friends and teammates throughout the weekend and capitalized on his improving passing skills to earn a trip to the top step of the podium.
During the afternoon 2 stroke Mini Swift category, Weiland's kart had a mechanical issue that sidelined him while he was running P2 early in the PreFinal. That meant Max had to start the Final in 17th or last place. Max drove his kart from 17th to P5 in 13 laps and finished a little over three seconds behind the winner. Great job overall, considering where he had to start the race.
The best part of race weekend overall, though, was for Max to be able to see and race with a lot of his friends. Max and his family are looking forward to seeing many of them again at the World Karting Association event at the Charlotte Motor Speedway next weekend.
Special thanks to Electronic Merchant Systems, Ferrari of San Francisco, BRM Chronographes Americas, Magik Kart USA, Checkered Motorsports, Andrew Bujdoso Racing, AJ Myers, and Conrad Grunewald.
You can also follow along with @MaxWeilandRacing on Facebook, Instagram and YouTube.
 —
Max Weiland is a 10-year old racing driver who is affiliated with Checkered Motorsports, Magik Kart USA, Electronic Merchant Systems, Ferrari of San Francisco and BRM Chronographes Americas and coached by Conrad Grunewald, Andrew Prendeville and Robert Bujdoso.