Max met a Formula 1 racing star in May while attending the Monaco Grand Prix. He also had lots of fun competing in four races of his own throughout the month. Those races took place at karting tracks like the New Castle Motorsports Park in Indiana and the Pittsburgh International Race Complex in Pennsylvania. Max also celebrated his birthday with a cake and icing smash in the Magik Kart garage during a fast and exciting month of racing action!
May 27, 2022:

Max Meets Ferrari F1 Driver Charles Leclerc at the Monaco Grand Prix: While attending the Formula 1 Grand Prix in Monaco with his family, Max had the exciting opportunity to meet F1 racing star Charles Leclerc. The Scuderia Ferrari racing driver currently ranks No. 2 on the Formula One Driver's points standings this season. Charles has finished on the podium four times in 2022 while winning twice. He trails only Max Verstappen in F1 driver's championship heading into the summer.
May 20-22, 2022:

Stars Championship Series at New Castle Motorsports Park in Indiana: Max and the Magik Kart team competed in the Stars Championship Series at New Castle Motorsports Park in Indiana. After a difficult afternoon of Practice on Friday—two Heat Races on Saturday and a PreFinal Sunday morning—Max was slotted P3 on the grid for the Final Race and finished with a P2 podium.
Much appreciation goes out to the Magik Kart USA and Checkered Motorsports team for a fast and well prepared kart. Also, thanks to Electronic Merchant Systems, Ferrari of San Francisco and BRM Chronographes Americas for helping support our team and goals of working hard, getting better and trying to be the best we can be in every race. Congrats to the other great drivers who finished alongside Max on the podium too in a terrific race by everyone.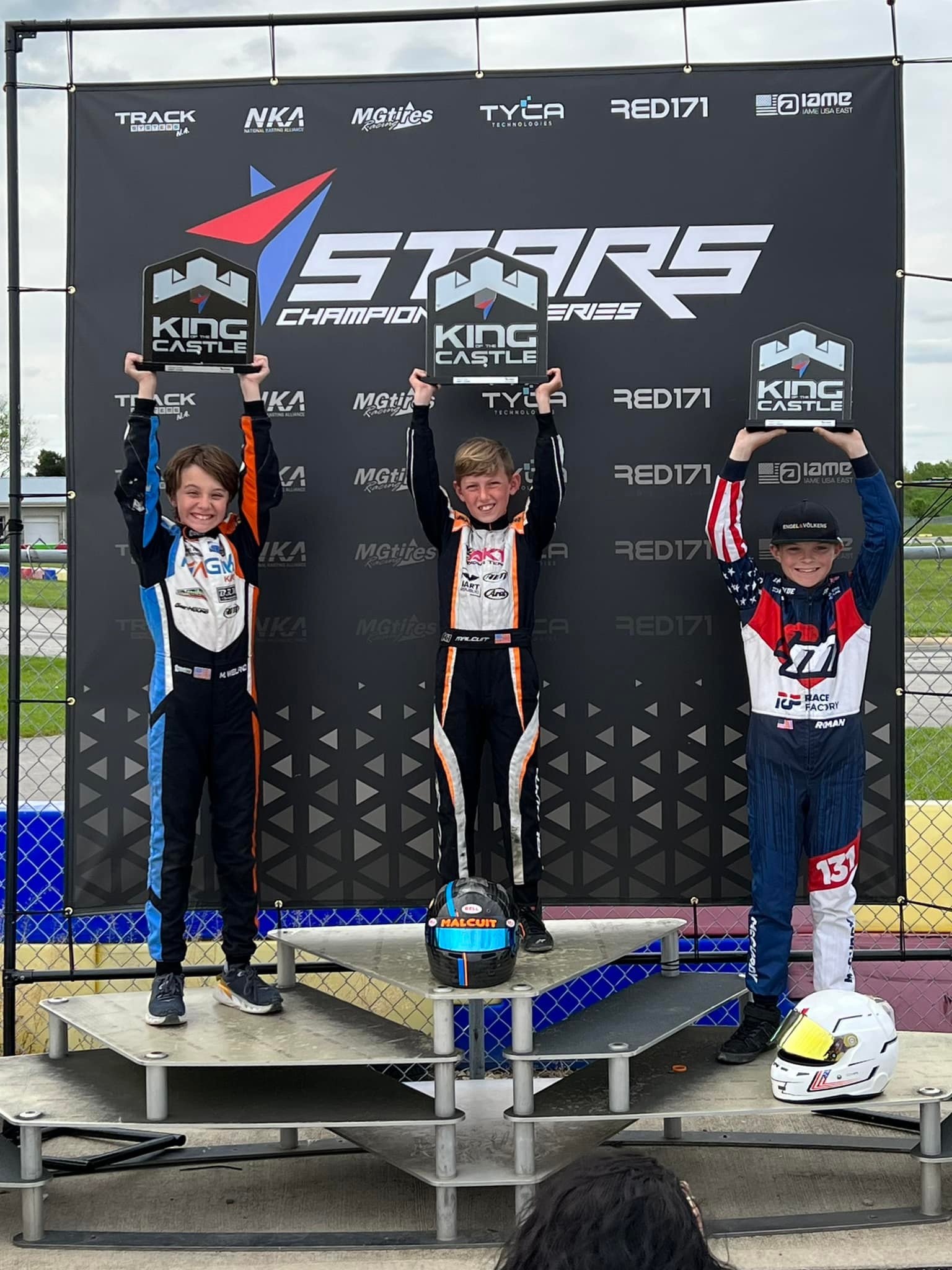 May 20, 2022:

Max Celebrates his Birthday at the Racetrack: During the trip to New Castle, Max celebrated his 11th birthday at the racetrack. After the team sang happy birthday to Max, they then smashed cake and icing all over his face. Fortunately, Max was able to get all of the icing out of his eyes before the racing began later that day.
May 13-15, 2022:

Max Collects P2 Finishes in the Briggs and Mini Swift: Racing again at the familiar confines of New Castle Motorsports Park, Max and the Magik Kart crew were able to capitalize on teamwork and a positive attitude throughout the weekend to earn a series of podium finishes. Weiland finished with a 2nd place podium on Saturday, and 2nd in both the Briggs and Mini Swift on Sunday.
Max led laps in both races and finished less than 0.2 of a second out of the win in each one. He continued to focus on having fun, listening to advice from his coaches, and working hard to improve his skills and his team is very proud of him for that. Big thanks to everyone who is reading and following along on social media to support Max throughout the racing season!
May 7, 2022:

Max Wins Race Back Where it All Began: Competing at the Pittsburgh International Race Complex where Weiland raced for the very first time, Max darted through the wet for a memorable weekend of Pennsylvania karting. On a cold and slick track, Max Qualified P1 to open the trip. He then finished P1 in the PreFinal after that, and closed out with a win in the Final. The winning weekend of racing also reminded us of not-so-long-ago when little Max first started racing on this track and how much he's grown since!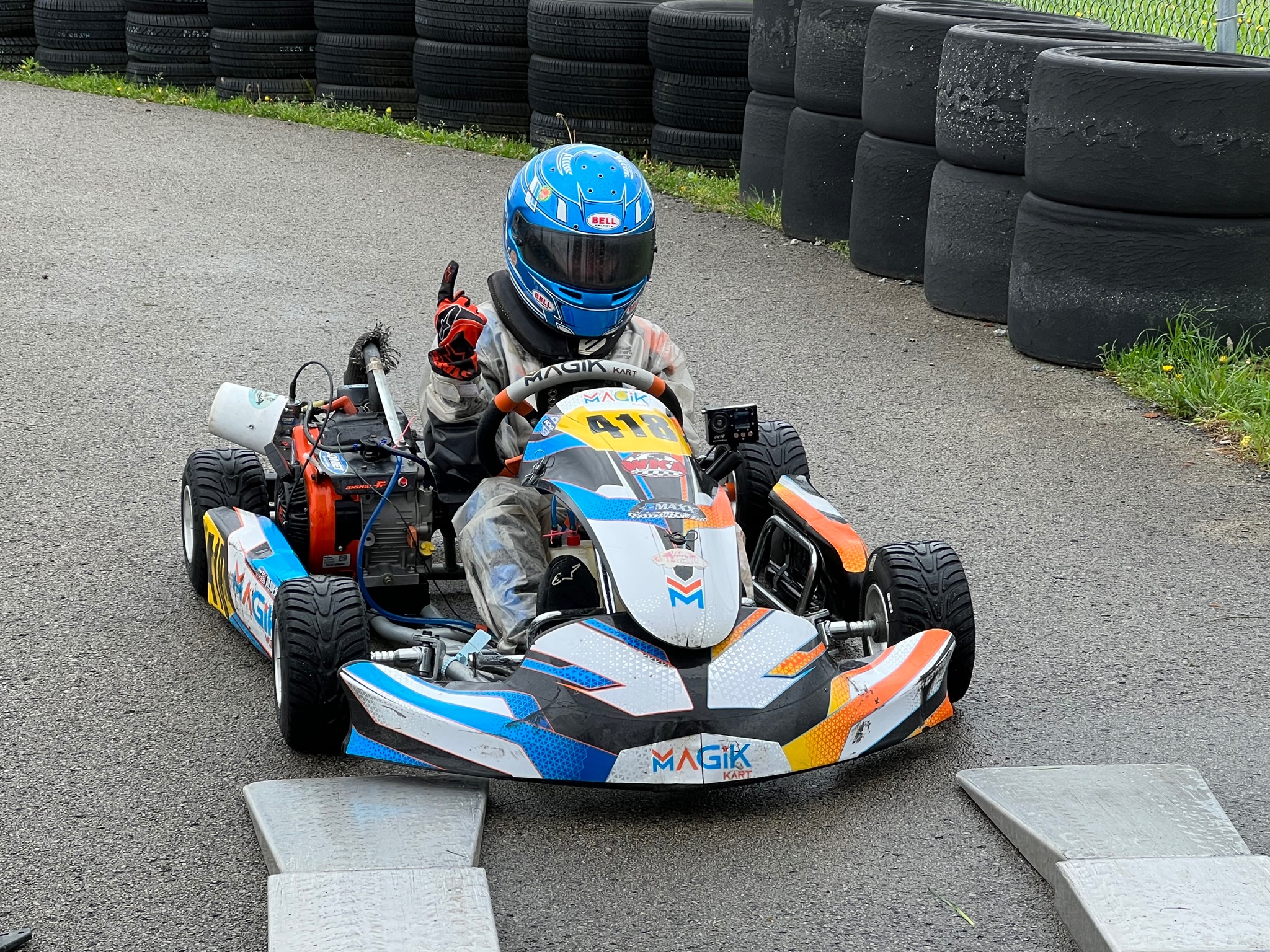 Here's Max at his first race: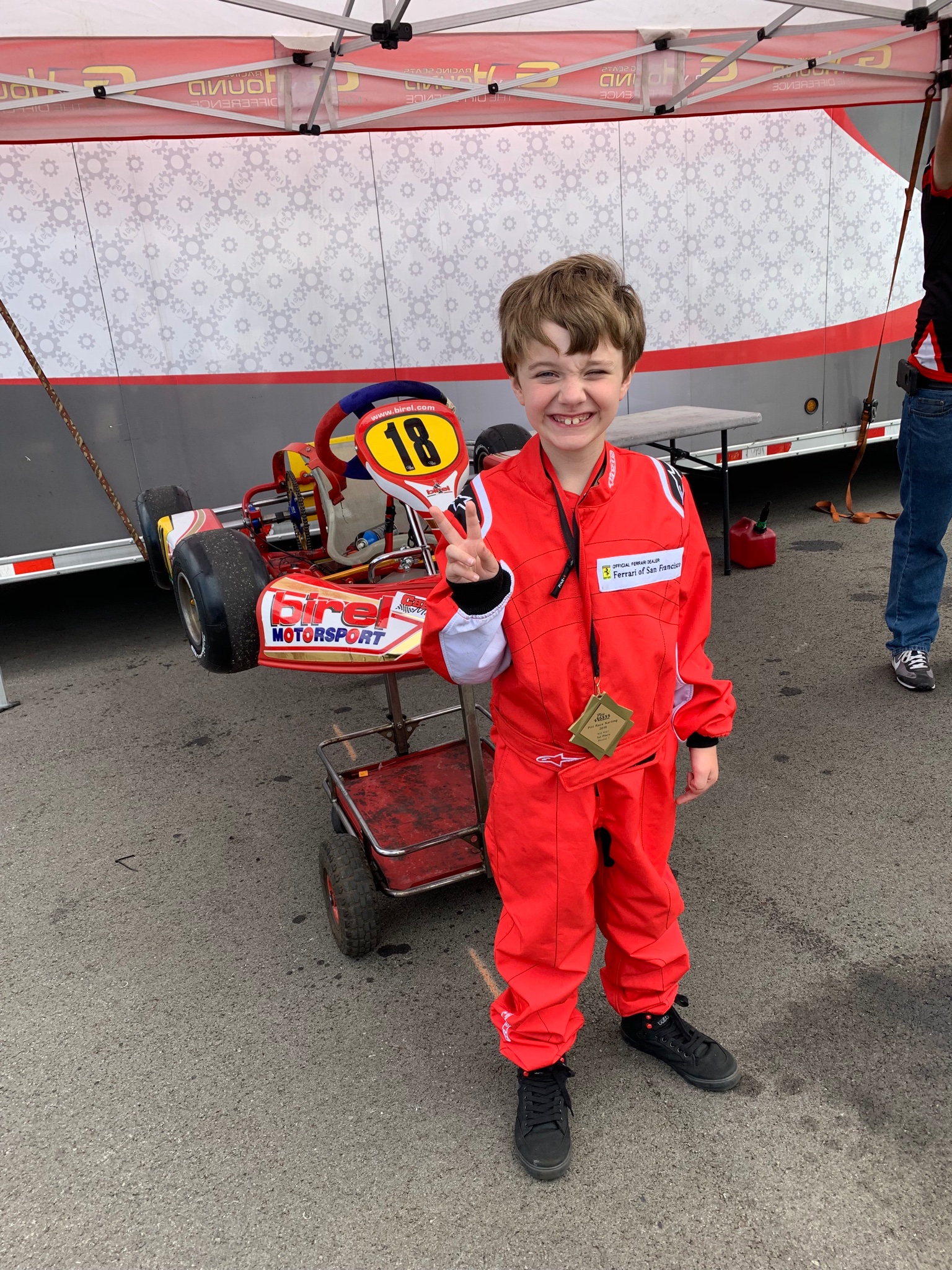 And here is Max all grown up and celebrating his win this past month in Pittsburgh: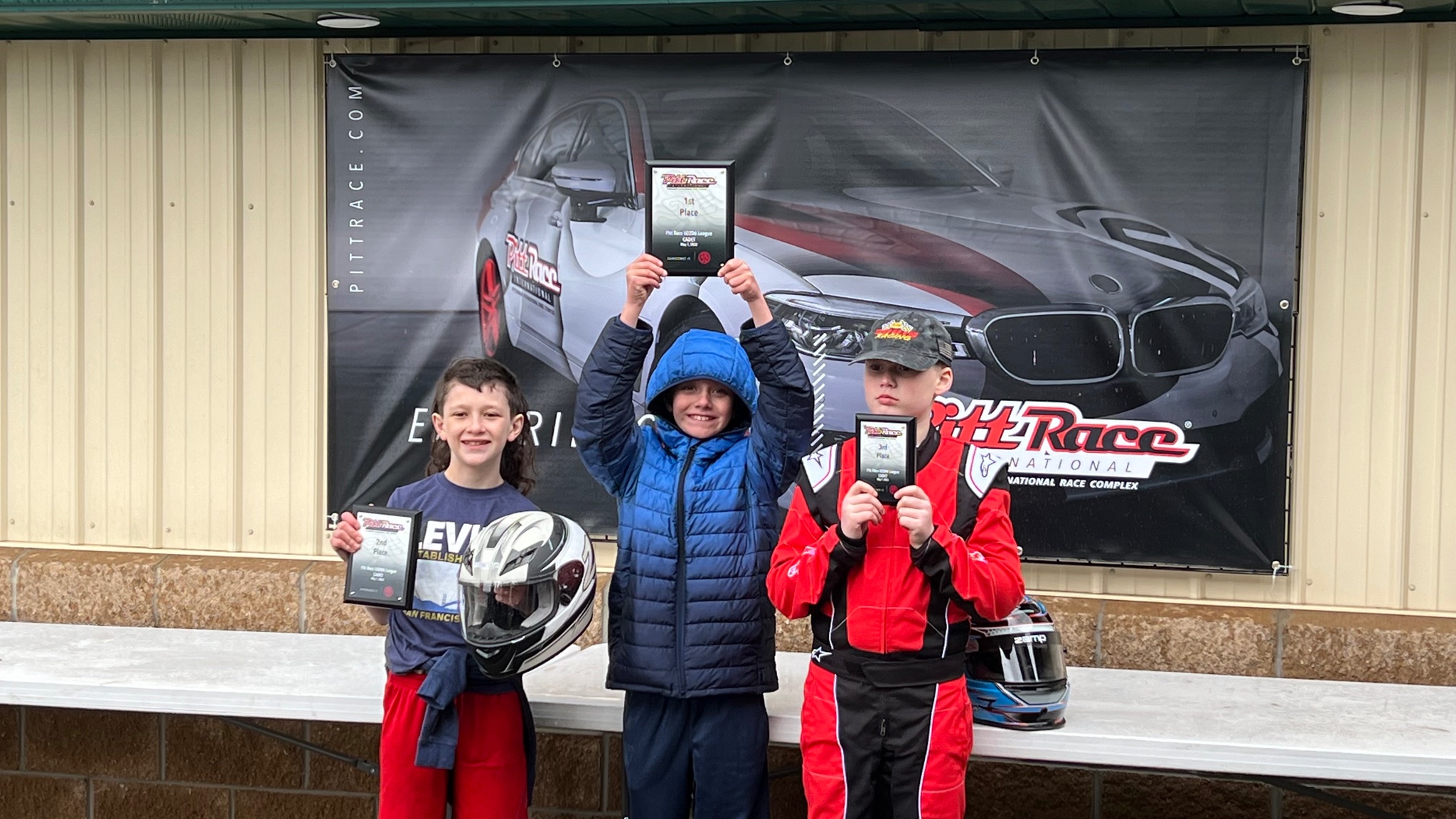 April 29-May 1, 2022
:

It was not our day at the start of May: Max began the month of May competing in the United States Pro Kart Series in Mooresville, NC. He completed a last corner pass to finish the PreFinal P5 which gridded him P10 for the Final. We got a decent start and ran as high as P8 but having to swerve to avoid an incident put us further back on the track and in the middle of a very competitive pack where we finished P13 of the 40 karts that made the Final. Not the result we wanted but another step forward in a big event like this. Max's fast lap was only .14 off the fastest. Max started the Final P15 and picked up two spots on Lap 1.
On Lap 2, Turn 4—which is a fast right hander—we were unceremoniously and unnecessarily drilled and punted into the grass. After re-firing the motor we rejoined in P38 which was 10 seconds behind P37. Despite all that adversity, Max drove hard to P28 on track and P26 after penalties. Nevertheless, a good weekend with lots of good experiences and we continue to work to the front in Max's second season of racing.
Thanks to Checkered Motorsports, Magik Kart USA, Electronic Merchant Systems, Ferrari of San Francisco, BRM Chronographes Americas, Conrad Grunewald, Robert Bujdoso and Andrew Bujdoso Racing for all their support throughout the month of May!
Video Highlights from May:
You can also follow along with @MaxWeilandRacing on Facebook, Instagram and YouTube.
—
Max Weiland is a 10-year old racing driver who is affiliated with Checkered Motorsports, Magik Kart USA, Electronic Merchant Systems, Ferrari of San Francisco and BRM Chronographes Americas and coached by Conrad Grunewald, Andrew Prendeville and Robert Bujdoso.